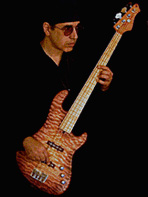 All of my musical life I've explored the bass through many musics; funk, reggae, funk, blues, funk, soul, funk, rock, funk, hip hop and funk, improvisation.

When I designed 'A' bass, the player in me wanted to physicaly reproduce the sound that I hear in my head; the builder in me wanted to keep the best aspects of a vintage instrument but fine tuned to meet todays bass players needs.

Each bass has a voice of it's own, listen, and it will reveal it's secrets to you.